Latest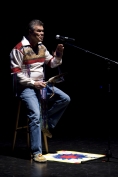 Compaigni V'ni Dansi thanks the Vancouver community for joining us in celebrating the life of Louis Riel, a true Canadian folk hero, at the Eighth Annual Louis Riel Day Celebration, held on November 16, 2013.
Join us next year for another extraordinary evening of celebration!
We're thrilled to announce an exciting line-up for this year's Louis Riel Day Celebration. And new this year, we're giving you the chance to donate to this event, to help us make it as great as it could and should be! Please visit our CauseVox fundraising page for more information. The page includes a short video with some great clips and photos of our Louis Riel Day Celebrations over the years, so definitely make sure you check that out!